2021 | OriginalPaper | Buchkapitel
Application of a Detailed Model of a Steering System in Highly Dynamic HiL Tests of EPS Motors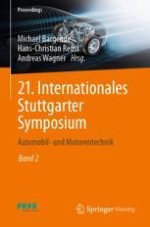 Erstes Kapitel lesen
Autoren: M.Sc. Markus Hemmersbach, Dipl.-Ing. Hermann Briese, M.Sc. Michael Haßenberg, M.Sc. Marcus Irmer, Prof. Dr.-Ing. Hermann Henrichfreise
Verlag: Springer Fachmedien Wiesbaden
Abstract
Hardware-in-the-Loop (HiL) tests are common practice in the development process of "Electric Power Steering – EPS" systems. The HiL tests are carried out on power pack test benches, which emulate the real environment, that an EPS motor is exposed to in a real vehicle.
This paper describes highly dynamic HiL tests of an EPS motor using the power pack test bench of [1] To precisely emulate the real environment of the EPS motor, the detailed steering model of [2] is used and moreover embedded in a vehicle dynamics model. The resulting HiL system consists of the detailed steering model, the vehicle dynamics model, the power pack test bench, and the corresponding test bench actuator control. The HiL system is used to perform the highly dynamic HiL tests and allows realistic parameter sets for every involved model.
During the HiL tests, the fishhook and the double lane-change are performed. Both are standardized road tests, that include a severe change of the driving direction of the vehicle and are hence highly dynamic excitations of the EPS system. Consequently, the measurement results of both HiL tests are used to prove the performance of the power pack test bench in highly dynamic HiL tests.