2016 | OriginalPaper | Buchkapitel
Application of a Digraph for Behavioural Eye Tracking Biometrics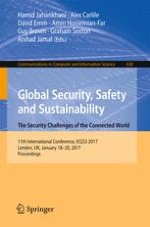 Erstes Kapitel lesen
Autor: Bobby L. Tait
Abstract
Preliminary reports on the soon to be released Samsung note 7, suggests that the new device will incorporate an iris scanner to be used for biometric authentication. It is clear that over the past number of years, vendors of personal digital devices, consider biometric authentication of a human as a possible replacement for pin, password and pattern based authentication mechanisms currently in use.
Behavioural biometrics is often used to strengthen existing authentication mechanisms. A digraph is commonly associated with the behavioural biometric known as keystroke dynamics. A password is firstly tested for correctness against the reference password on file. This is followed by a second step, where the biometric behavioural aspect is tested. The unique rhythm that a user exhibits when the password is entered forms part of the authentication process by using a digraph approach.
This paper utilizes the EyeWriter to test if the digraph approach can be used in eye tracking to create a behavioural biometric to authenticate a person.
The test was performed on 20 candidates and the results from this test indicated clearly that the behavioural aspect can fundamentally be used for behavioural biometric authentication in a one-to-one biometric authentication approach.