31.01.2018 | Ausgabe 4/2018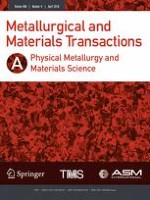 Application of a Model for Quenching and Partitioning in Hot Stamping of High-Strength Steel
Zeitschrift:
Autoren:

Bin Zhu, Zhuang Liu, Yanan Wang, Bernard Rolfe, Liang Wang, Yisheng Zhang
Wichtige Hinweise
Manuscript submitted August 17, 2017.
Abstract
Application of quenching and partitioning process in hot stamping has proven to be an effective method to improve the plasticity of advanced high-strength steels (AHSSs). In this study, the hot stamping and partitioning process of advanced high-strength steel 30CrMnSi2Nb is investigated with a hot stamping mold. Given the specific partitioning time and temperature, the influence of quenching temperature on the volume fraction of microstructure evolution and mechanical properties of the above steel are studied in detail. In addition, a model for quenching and partitioning process is applied to predict the carbon diffusion and interface migration during partitioning, which determines the retained austenite volume fraction and final properties of the part. The predicted trends of the retained austenite volume fraction agree with the experimental results. In both cases, the volume fraction of retained austenite increases first and then decreases with the increasing quenching temperature. The optimal quenching temperature is approximately 290 °C for 30CrMnSi2Nb with the partition conditions of 425 °C and 20 seconds. It is suggested that the model can be used to help determine the process parameters to obtain retained austenite as much as possible.