03.05.2018 | Ausgabe 6/2018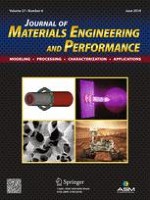 Application of Al-2La-1B Grain Refiner to Al-10Si-0.3Mg Casting Alloy
Zeitschrift:
Autoren:

Lijun Jing, Ye Pan, Tao Lu, Chenlin Li, Jinhong Pi, Ningyue Sheng
Abstract
This paper reports the application and microstructure refining effect of an Al-2La-1B grain refiner in Al-10Si-0.3Mg casting alloy. Compared with the traditional Al-5Ti-1B refiner, Al-2La-1B refiner shows better performances on the grain refinement of Al-10Si-0.3Mg alloy. Transmission electron microscopy analysis suggests that the crystallite structure features of LaB6 are beneficial to the heterogeneous nucleation of
α
-Al grains. Regarding the mechanical performances, tensile properties of Al-10Si-0.3Mg casting alloy are prominently improved, due to the refined microstructures.