2018 | OriginalPaper | Buchkapitel
30. Application of Bio-nanotechnology to Electronic Packaging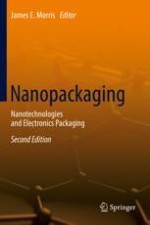 Erstes Kapitel lesen
Autor: Melinda Varga
Abstract
Nanotechnology, the science aiming at manipulating matter at nanometer scale, has advanced tremendously. Bio-nanotechnology indeed analyzes and seeks to apply biological principles and structures at nanoscale for various technological uses. But how can bio-nanotechnology aid in electronic packaging, a field comprising well-established technologies that once implemented give rise to various electronic products such as smartphones, tablets, or medical devices?
Assembly is one of a major technology in electronic packaging that is needed to build up functional electronic devices. At the nanoscale, this is most effectively accomplished by self-assembly, a process that is successfully utilized in nature to produce genuine machines and assemblies that power and direct proper functioning of living cells.
This chapter discusses some of nature's examples of extraordinary self-assembly and reflects upon how and what modalities and opportunities might exist that would inspire for extending electronic packaging technologies to nanoscale assembly in the future. Following a miniaturization trend, MEMS devices that require special packaging and assembly technologies would most probably benefit.