01.06.2015 | Research Article | Ausgabe 2/2015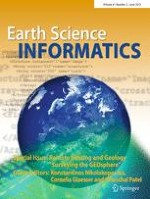 Application of hierarchical clustering technique for numerical tectonic regionalization of the Zagros region (Iran)
Zeitschrift:
Autoren:

Seyed Naser Hashemi, Rezvan Mehdizadeh
Wichtige Hinweise
Communicated by: H. A. Babaie
Abstract
Numerical agglomerative hierarchical classification is fundamentally an unsupervised method of grouping individuals on which there are multivariate data so as to identify natural groups in them and perhaps in the populations from which they are drawn and where no prior classification exists or is assumed. We have used the technique to make a tectonic regionalization of the Zagros region and to see whether it can increase our understanding of the regional tectonics. We first identified 137 sub-areas as units for each of which we had recorded 18 quantitative variables; these formed our data, which we held in a data matrix of
n
 = 137 rows and
p
 = 18 columns. After data standardization, we computed the relationships among all pairs of sub-areas as Euclidean distances and then grouped them hierarchically using Ward's method to form a dendrogram. Cutting the dendrogram at several levels of dissimilarity provided a series of tectonic zoning maps which matched the trends in tectonic evolution of the region. This sequence, obtained automatically, agrees well with our general understanding of the geology. However, in the present study some new findings about the tectonic nature of the region were obtained. For example, the role of the Kazerun-Qatar and Oman lines as two major structural features has been clearly demonstrated. In addition, a striking difference between the Minab zone and the other parts of the Zagros region has been observed. This study simply presents the necessity and usefulness of hierarchical cluster analysis, as an appropriate statistical pattern recognition technique, for increasing the degree of the objectivity of the regionalization researches in the Earth sciences.