2017 | OriginalPaper | Buchkapitel
52. Application of Models from Social Science to Social Policy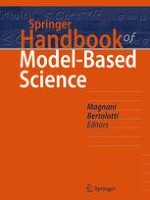 Erstes Kapitel lesen
Autor: Eleonora Montuschi
Verlag: Springer International Publishing
Abstract
The use of models in social science is now widely acknowledged, and well beyond cosmetic or illustrative purposes. However, the details and the mechanics of their use still prove hard to pin down. Equally, the usefulness of social scientific models in social practice and intervention is often challenged by a number of contentious and recurrent issues. One of these issues is ontological: How do model descriptions and aspects of social reality relate to each other? Often the descriptions offered by models are thin and unrealistic. Can we (and how much) learn about what goes on in the real-social world by analyzing the way/s that world gets described or explained by a model? A second issue is methodological: why using models when we can design experiments in the social world that are able, with some rigor, to inform us on
what works
? Nowadays there is an established trend to prefer the results achieved, for example, by well-conducted randomized control trials, by many considered the golden rule to doing good and useful social science.
In this chapter, we will first show some of the limitations and costs of using models in representing real-life situations, and suggest some strategies by which we can still formulate informative inferences from model to target system. We will then point out some of the virtues and benefits of using models (particularly causal models) when what is at stake is not only answering the question
what works
in policy terms, but also
why it works
– or, even more interestingly, why it does not work in given circumstances.