08.05.2018 | Technical Paper | Ausgabe 1/2019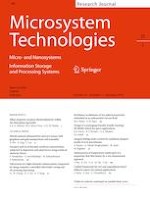 Application of stochastic fractal search in approximation and control of LTI systems
Zeitschrift:
Autoren:

Rajesh Bhatt, Girish Parmar, Rajeev Gupta, Afzal Sikander
Wichtige Hinweise
Publisher's Note
Springer Nature remains neutral with regard to jurisdictional claims in published maps and institutional affiliations.
Abstract
The present work deals with the application of evolutionary computation in approximation and control of linear time invariant (LTI) systems. Stochastic fractal search algorithm (SFS) has been proposed to obtain low order system (LOS) from LTI higher order system (HOS) as well as in speed control of DC motor with PID controller. SFS is quite simple to use in control system and employs the diffusion property present in random fractals to discover the search space. In approximation of LTI systems, the integral square error (ISE) while in control of DC motor, the integral of time multiplied absolute error has been taken as an objective/fitness functions. In system's approximation, the results show that the proposed SFS based LOS preserves both the transient and steady state properties of original HOS. The simulation results have also been compared in terms of; ISE, integral absolute error and impulse response energy with well known familiar and recently published works in the literature which shows the superiority of SFS algorithm. In control of DC motor, the obtained results are satisfactory having no overshoot and less rise and settling times in comparison to existing techniques.