2018 | OriginalPaper | Buchkapitel
5. Application of Sustainability Framework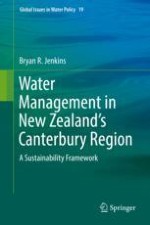 Erstes Kapitel lesen
Autor: Bryan R. Jenkins
Verlag: Springer Netherlands
Abstract
This chapter has two main purposes. One purpose is to provide examples of how the sustainability framework can be applied. Because it is relatively novel approach, illustrations provide the reader with an understanding of what the application entails and valuable insights that can be gained by this approach. The second purpose is to describe the water management topics to which the framework is applied to in the remaining chapters of the book.
The first two sections address the identification of failure pathways: one covering illustrative examples; the second the chapters addressing water management failure pathways for Canterbury. The process of identifying water management failure pathways is illustrated for the Waimakariri catchment. This involves the interpretation of sustainability issues as adaptive cycles ; the identification of critical variables and their thresholds for management ; and how adaptive cycles for different spatial or time scales are nested and how they are connected. In addition, the example of maladaptive cycles is illustrated by the analysis of dryland salinity in the Western Australian agricultural region. In the second section, the failure pathways for water management are derived from the ten failure pathways identified in Chap.
4
and how they are addressed in the remainder of the book is explained.
The other two sections address the formulation of sustainability strategies . One illustration of a sustainability strategy compares the water availability elements of the Canterbury Water Management Strategy as an example of integrated water management, with the initial concept that was focused only on storage as the strategy for addressing water availability. A second illustration is the resilience analysis for Te Waihora/Lake Ellesmere which facilitated a rehabilitation strategy being implemented where multi-criteria effects analysis had failed to lead to any action. The last section describes how subsequent chapters are structured to discuss the steps in applying the sustainability framework to develop a sustainability strategy: sustainability assessments, sustainability decision making and sustainability appraisal . It also describes how the concluding chapter brings together the insights gained from failure pathway analysis to identify implications for water management in Canterbury .