01.06.2015 | Ausgabe 6/2015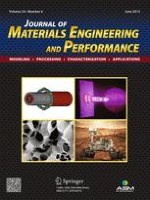 Application of the Billet Casting Method to Determine the Onset of Incipient Melting of 319 Al Alloy Engine Blocks
Zeitschrift:
Autoren:

A. Lombardi, C. Ravindran, R. MacKay
Wichtige Hinweise
Innovation in Processing of Light Metals for Transportation Industries: A Symposium in Honor of C. Ravi Ravindran," held during MS&T'14, October 12-16, 2014, in Pittsburgh, Pa., and has been expanded from the original presentation.
Abstract
The increased use of Al for automotive applications has resulted from the need to improve vehicle fuel efficiency. Aluminum alloy engine blocks fulfil the need of lightweighting. However, there are many challenges associated with thermo-mechanical mismatch between Al and the gray cast iron cylinder liners, which result in large tensile residual stress along the cylinder bores. This requires improced mechanical properties in this region to prevent premature engine failure. In this study, replicating billet castings were used to simulate the engine block solution heat treatment process and determine the onset of incipient melting. Microstructural changes during heat treatment were assessed with SEM and EDX, while thermal analysis was carried out using differential scanning calorimetry. The results suggest that solution heat treatment at 500 °C was effective in dissolving secondary phase particles, while solutionizing at 515 or 530 °C caused incipient melting of Al2Cu and Al5Mg8Cu2Si6. Incipient melting caused the formation ultra-fine eutectic clusters consisting of Al, Al2Cu, and Al5Mg8Cu2Si6 on quenching. In addition, DSC analysis found that incipient melting initiated at 507 °C for all billets, although the quantity of local melting reduced with microstructural refinement as evidenced by smaller endothermic peaks and energy absorption. The results from this study will assist in improving engine block casting integrity and process efficiency.