01.09.2016 | Thematic Issue | Ausgabe 18/2016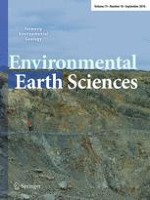 Application of the initial model feature of microtremor to investigate a part of the geothermal field of Jiangsu region in China
Zeitschrift:
Autoren:

Baoqing Tian, Peifen Xu, Suqun Ling, Xueqiu Xu, Jianguo Du, Zhonghe Pang
Wichtige Hinweise
This article is part of a Topical Collection in Environmental Earth Sciences on "Subsurface Energy Storage II", guest edited by Zhonghe Pang, Yanlong Kong, Haibing Shao, and Olaf Kolditz.
Abstract
Application of geothermal resources draws growing attention in recent years as geothermal resources are an emerging clean and renewable energy. There are tremendous geothermal resources in Jiangsu Province, which have been considered as significant contributions to regional economic development and climate variation. Controlled by tectonic structure, the spatial distribution of geothermal resources is highly uneven. Because of the complexity in terms of thermal storage background and reservoir types, successful application of geothermal resources is facing many practical difficulties such as determining the drilling location of geothermal well; thus, successful geothermal exploration is still of high risk. Firstly, geothermal resources of Jiangsu Province can be categorized into four areas; thus, geothermal reservoirs of different areas are discussed in this paper. According to the results of rock samples testing and analyzing, a geothermal reservoir physical model of Southern Jiangsu geothermal resource area has been established, which can provide an initial restriction for microtremor inversion. Two survey points with major inversion error under "blind inversion" are recalculated as well. The results show that the initial inversion model can effectively improve the accuracy of inversion and thus benefit the sounding reservoirs. By introducing the actual initial inversion model, microtremor survey method can achieve more accurate results to provide critical information for the development of geothermal resources, which reduce the risk of successful geothermal drilling.