01.11.2018 | XXII INTERNATIONAL SYMPOSIUM "NANOPHYSICS AND NANOELECTRONICS", NIZHNY NOVGOROD, MARCH 12–15, 2018 | Ausgabe 11/2018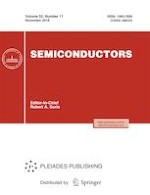 Application of the Locally Nonequilibrium Diffusion-Drift Cattaneo–Vernotte Model to the Calculation of Photocurrent Relaxation in Diode Structures under Subpicosecond Pulses of Ionizing Radiation
Zeitschrift:
Autoren:

A. S. Puzanov, S. V. Obolenskiy, V. A. Kozlov
Wichtige Hinweise
Translated by A. Kazantsev
Abstract
The excitation-relaxation process in electron–hole plasma upon exposure to ionizing radiation for a time shorter than the relaxation time of the mobile carrier energy and momentum is considered. By the example of the calculation of transient ionization processes in a silicon hyperhigh-frequency Schottky diode, local-equilibrium and local-nonequilibrium carrier transport models are compared. It is shown that the local-nonequilibrium model features a wider field of application for describing fast relaxation processes.