2006 | OriginalPaper | Buchkapitel
Application of the Mori-Tanaka method to analysis of woven composites with imperfections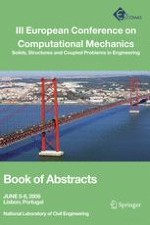 Erstes Kapitel lesen
Autoren: Jan Skoček, Jan Zeman, Michal Šejnoha
Verlag: Springer Netherlands
Woven composites, i.e. composites reinforced with mutually interlaced systems of unidirectional fiber tows, belong to the most progressive material systems with applications ranging from strengthening of civil engineering structures to design of biocompatible medical implants. Therefore, understanding of overall behavior of these materials is a problem of considerable practical importance.
Modeling of woven composites, however, presents a significant challenge due to their complex threedimensional geometry. A variety of approaches to simulation of these material systems has been proposed in the last four decades (see, e.g., [
1
] for an exhaustive review), including simple rule of mixtures, dimensionally-reduced models and detailed three-dimensional numerical studies. It is generally accepted that the last class of models is the most realistic one at the expense of higher computational cost, especially when taking into account microstructure imperfections [
2
].
To circumvent this limitation, the Mori-Tanaka method was selected due to its successful application to diverse heterogeneous material systems. In the present contribution, we employ the reformulation of the Mori-Tanaka method introduced in [
3
]. Compared to the original setting, the generalization ensures the major symmetry of the effective stiffness tensor and incorporates a two-step homogenization to capture the interaction between reinforcements.
Application of the method to analysis of real-world material systems involves three steps. In the first step, we determine the parameters of the adopted scheme in order to optimally approximate results of a FEM-based first order homogenization study. In the next step, we take into account imperfections of fiber tow paths by incorporating an experimentally observed orientation distribution. Finally, the "effective" porosity of the matrix can be included on the basis of available experimental data.