2017 | OriginalPaper | Buchkapitel
11. Applications and Current Status of Antimicrobial Polymers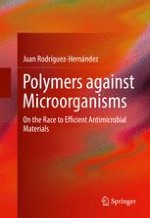 Erstes Kapitel lesen
Autor: Juan Rodríguez-Hernández
Abstract
The use of antimicrobial polymers has been extended to many different fields mainly due to their improved quality and safety benefits in comparison to traditionally employed biocides. In effect, low-molecular weight antimicrobial agents have important disadvantages including their toxicity to the environment and/or short-term antimicrobial ability. On the contrary, the use of antimicrobial polymers may enhance the effectiveness of some of the currently employed antimicrobial agents while reducing the environmental issues accompanying conventional antimicrobial agents (typically by decreasing the residual toxicity of the agents, increasing their efficacy and selectivity, and extending the life span of the antimicrobial agents).
Taking into account the important advantages that antimicrobial polymers offer, a wide range of classes and applications can be envisaged for these materials. As will be depicted in this chapter, areas that can benefit from the use of antimicrobial polymers include the fabrication of fibers, textile sector, the design of water filtration systems, food packaging, and biomedical and pharmaceutical industries. In particular, focusing in the biomedical field, these polymers can decrease the sufferings of people improving their recovery, therefore offering better life quality.
This chapter will summarize the most important areas of applications in which polymers are at this time playing an important role or can be of potential interest in the near future. Moreover, the current limitations as well as those aspects that require both further investigation and improvements will be depicted focusing in their use for food packaging and food storage as well as for biorelated applications including the fabrication of medical devices, hygienic applications, or surgery equipment.