01.03.2021 | Ausgabe 3/2021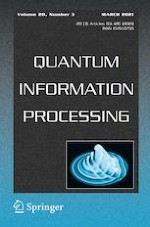 Applications of Simon's algorithm in quantum attacks on Feistel variants
Zeitschrift:
Autoren:

Jingyi Cui, Jiansheng Guo, Shuzhen Ding
Wichtige Hinweise
Publisher's Note
Springer Nature remains neutral with regard to jurisdictional claims in published maps and institutional affiliations.
Abstract
Simon's algorithm is a well-known quantum algorithm which can achieve an exponential acceleration over classical algorithm. It has been widely used in quantum cryptanalysis of many cryptographic primitives. This paper concentrates on studying the applications of Simon's algorithm in analyzing the security of Feistel variants, several well-known cryptographic structures derived from the Feistel structure. First, we propose a definition of weakly periodic function to relax the original strong Simon's promise. Based on this definition, we define and analyze several extensions of Simon's problem which expand the application of Simon's algorithm. Furthermore, based on one extended Simon's problem, we show new polynomial-time quantum distinguishing attacks on several Feistel variants: MISTY L/R, CAST256-like, CLEFIA-like, MARS-like, SMS4-like and Skipjack-A/B-like schemes. These new results show that classically secure schemes may be no longer secure in the Q2 model. Finally, based on the quantum distinguishers introduced above, we extend several rounds forward or backward to propose corresponding quantum all subkeys recovery attacks that can recover all subkeys in the Q2 model with lower query complexities than those in the Q1 model by using Grover's algorithm.