2017 | OriginalPaper | Buchkapitel
Applying the Story of
The Dream of the Butterfly

in Creative Design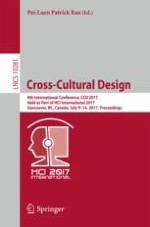 Erstes Kapitel lesen
Autoren: Mo-Li Yeh, Chun-Ming Lien, Yi-Fang Kao
Abstract
In recent years, traditional cultural material has been creativity applied to increase the value of artistic designs and expand aesthetic economies worldwide. Cultural creative designs involve extracting and transforming cultural elements and symbols to create new aesthetic meanings in artworks. This study extracts the intangible cultural elements of the Chinese fable,
The Dream of the Butterfly
, through analyzing its literary meanings to provide inspirational concepts for cultural creative designs. The experience in
The Dream of the Butterfly
was a turning point in the life of Chuang Tzu. In response to increasing stresses of modern living, soothing emotional designs have become trendy. The light-hearted writing style of Chuang Tzu and the erratic portrayal of the butterfly are ideal inspiration for creative designs. This study aggregates practices based on theories of cultural creative designs and organizes various interpretations of
The Dream of the Butterfly
through the Chuang Tzu aesthetic theory and by scholars worldwide. The fable was interpreted on three interpretative levels (namely the dreamlike state, the integration between the thing and the self, and the sympathetic circulation of mind and matter) to analyze existing artworks inspired by the fable. Thus, spiritual reflections in the process of creative transformation have been clarified, and a reference for transforming the philosophy of
The Dream of the Butterfly
into creative designs has been established.