2020 | OriginalPaper | Buchkapitel
Approach to Evaluation of Delamination on the MiG-29's Vertical Stabilizers Composite Skin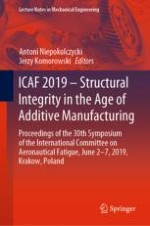 Erstes Kapitel lesen
Autoren: Michał Sałaciński, Piotr Synaszko, Dawid Olesiński, Piotr Samoraj
Abstract
The airframe of the MiG-29 jet fighter is a semi-monocoque, aluminum structure. The vertical stabilizer skin is the only safety-critical load bearing components made of composite materials. According to the manufacturer's instruction, the vertical stabilizer operation is based on the safe-life approach i.e. monitoring of hourly and calendar based service lifes. In addition, visual inspections including tap-testing are periodically performed.
The service life of the MiG-29s operated by the PAF has already been extended: calendar life – from 25 to 40 years and hourly life – from 2000 to 4000 flight hours. In the course of the extension program, additional maintenance and overhaul actions had to be introduced.
The additional actions consisted of structural monitoring of the stabilizer airframe – especially skin delamination and stringer debonding. Non-destructive testing has been used for this purpose (especially ultrasonic methods). Damage tolerance for these defects (delamination and debonding) was based on occurrence statistic (distribution) obtained from the aircraft in service.
Based on the research from the last decade, it has been established that the skin defects do not propagate, however the number of defects increases. Recently, defects exceeding the statistic-based criteria were also observed. Therefore a new approach for damage criteria has been implemented, based on Finite Element simulations of the defect initiation and evolution – for which fracture mechanics methods were used.
This article contains information on damage modeling and methodology for checking the condition of damaged structure.