2008 | OriginalPaper | Buchkapitel
Approximate and Noisy Realization of Linear Representation Systems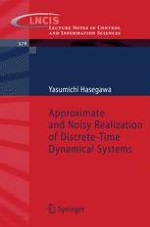 Erstes Kapitel lesen
Autor: Yasumichi Hasegawa
Verlag: Springer Berlin Heidelberg
Let the set of output's values
Y
be a linear space over the field
$\boldsymbol{R}$
. In the reference [Matsuo and Hasegawa, 2003], linear representation systems were presented with the following main theorem. The main theorem says that for any causal input/output map, i.e., any input response map, there exist at least two canonical, namely quasi-reachable and distinguishable linear representation systems which realize, equivalently, faithfully describe it, and any two canonical linear representation systems with the same behavior are isomorphic.
For self contained, the results obtained in the reference are stated.
Firstly, the realization theory is listed.
Secondly, the results of finite dimensional linear representation systems are stated. They consist of a criterion for a canonical finite dimensional linear representation systems, a representation theorem of isomorphic classes for canonical linear representation systems, a criterions for the behavior of finite dimensional linear representation systems, and a procedure to obtain a canonical linear representation system.
Thirdly, their partial realization is remarked on according to the above results. The existence of minimum partial realization is listed. It rarely happens for minimum partial realizations to be unique up to an isomorphism. To solve the uniqueness problem, we define a notion of natural partial realizations and state the following main results for this partial realization:
1) A necessary and sufficient condition for the existence of natural partial realizations is given by the rank condition of a finite-sized Hankel matrix.
2) The existence condition of natural partial realizations is equivalent to the uniqueness condition of minimum partial realizations.
3) An algorithm to obtain a natural partial realization from a given partial input response map is given.
We can easily understand that the above results of our systems are the same as the ones obtained in linear system theory.