01.08.2014 | Ausgabe 2/2014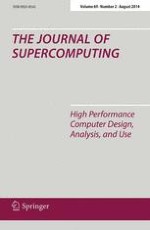 Approximation scheme for burst scheduling with minimum overhead in time slicing mobile TV
Zeitschrift:
Autor:

Satoshi Fujita
Wichtige Hinweise
Earlier version of this paper was presented at "An Approximation Scheme for Burst Scheduling in Time Slicing Mobile TVs," by Satoshi Fujita, In Proc. the 13th International Conference on Parallel and Distributed Computing, Applications and Technologies (PDCAT 2012), December 2012.
Abstract
In this paper, we consider the problem of minimizing switching overhead of burst scheduling in time slicing mobile TV broadcast systems. This problem was formulated by Hsu and Hefeeda, and was given an elegant approximation scheme with an approximation ratio of at least two. Our proposed scheme significantly improves the approximation ratio of the previous scheme. More concretely, it generates a burst schedule for mobile TV systems whose switching overhead is at most
\((1/\ln 2)+\epsilon \simeq 1.4427\)
times of optimum, where
\(\ln \)
is the natural logarithm and
\(\epsilon \)
is arbitrary positive constant. Our scheme is a combination of a binary partion of burst cycles and a shifting method which is commonly used for the analysis of approximation algorithms designed for unit disk graphs.