16.06.2016 | Original Paper | Ausgabe 13/2017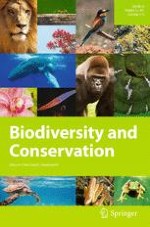 Aquatic biodiversity in forests: a weak link in ecosystem services resilience
Zeitschrift:
Autoren:

Brooke E. Penaluna, Deanna H. Olson, Rebecca L. Flitcroft, Matthew A. Weber, J. Ryan Bellmore, Steven M. Wondzell, Jason B. Dunham, Sherri L. Johnson, Gordon H. Reeves
Wichtige Hinweise
Communicated by Eckehard Brockerhoff, Hervé Jactel and Ian Thompson.
This is part of the special issue on 'Forest biodiversity and ecosystem services'.
Abstract
The diversity of aquatic ecosystems is being quickly reduced on many continents, warranting a closer examination of the consequences for ecological integrity and ecosystem services. Here we describe intermediate and final ecosystem services derived from aquatic biodiversity in forests. We include a summary of the factors framing the assembly of aquatic biodiversity in forests in natural systems and how they change with a variety of natural disturbances and human-derived stressors. We consider forested aquatic ecosystems as a multi-state portfolio, with diverse assemblages and life-history strategies occurring at local scales as a consequence of a mosaic of habitat conditions and past disturbances and stressors. Maintaining this multi-state portfolio of assemblages requires a broad perspective of ecosystem structure, various functions, services, and management implications relative to contemporary stressors. Because aquatic biodiversity provides multiple ecosystem services to forests, activities that compromise aquatic ecosystems and biodiversity could be an issue for maintaining forest ecosystem integrity. We illustrate these concepts with examples of aquatic biodiversity and ecosystem services in forests of northwestern North America, also known as Northeast Pacific Rim. Encouraging management planning at broad as well as local spatial scales to recognize multi-state ecosystem management goals has promise for maintaining valuable ecosystem services. Ultimately, integration of information from socio-ecological ecosystems will be needed to maintain ecosystem services derived directly and indirectly from forest aquatic biota.