10.07.2018 | Technical Publication | Ausgabe 5/2018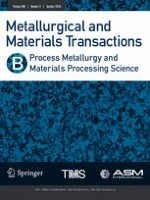 Archaeological Arsenical Bronzes and Equilibrium in the As-Cu System
Zeitschrift:
Autoren:

Marianne Mödlinger, Andreas Cziegler, Daniele Macció, Holger Schnideritsch, Benjamin Sabatini
Wichtige Hinweise
Manuscript submitted December 1, 2016.
Abstract
Understanding the effects of impurities, segregation, undercooling, and solidification velocity is necessary to reconstruct prehistoric As-Cu alloy manufacturing processes and practices. Moreover, these alloys often contain a wide variety of minor and trace elements such that the binary As-Cu equilibrium phase diagram does not adequately represent arsenical bronze artifacts as-cast in ancient molds. Furthermore, the variable cooling rates present in as-cast alloys of predominantly arsenic and copper, due to the thermal properties of differing mold materials, would have had profound effects on the formation of inversely segregated arsenic. Alloys with 1 to 15 wt pct arsenic were prepared and studied using differential thermal analysis, metallography, and scanning electron microscopy with energy-dispersive X-ray spectroscopy. Equilibrium diagrams were established and the potential influence of trace elements discussed. A new liquidus curve for the equilibrium diagram in this compositional range, measuring slightly higher in temperature, was established.