2017 | OriginalPaper | Buchkapitel
Archetypes of 100 % Renewable Energies Scenarios by 2050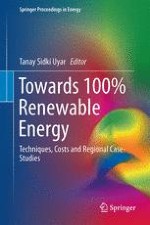 Erstes Kapitel lesen
Autoren: Harry Lehmann, Mark Nowakowski
Abstract
In order to limit the rise in global temperature to 2 °C above the temperature in pre-industrial times, industrialized countries must reduce their CO2 emissions by 80–95 % by 2050. The electricity generation sector can make a major contribution to the desired emission reductions as in Germany it accounts for 40 % of all energy-related emissions. On the way to a low carbon or even carbon-neutral society, however, there are a number of possible paths depending on political and social priorities.
The German Federal Environment Agency (Umweltbundesamt, UBA) has therefore been analyzing several "archetypes" of a future renewables-based power generation. Within this framework three radically different scenarios were developed in order to study the technical and ecological feasibility of Germany switching to an electricity supply based entirely on renewable sources by 2050. Apart from different generation structures, the studies assume different degrees of connection between individual regions in Germany and between Germany and other countries within a pan-European network.
In the "Local Energy Autarky" scenario (not yet published), small-scale decentralized energy systems use locally available renewable energy sources to satisfy their own power demand without being connected with each other or with outside suppliers, i.e., without electricity imports. In the "Regions Network" scenario (English version free download:
http://​www.​umweltdaten.​de/​publikationen/​weitere_​infos/​3997-0.​pdf
) (published in 2010), electricity is exchanged throughout Germany and only a small part of the load is covered by electricity imports from neighboring countries. In the "International Large Scale" scenario, Germany's electricity supply is based on all renewable energy potentials in Germany, Europe, and its vicinity which can readily be tapped by large-scale technology projects and storage power plants. In this scenario, Germany imports much of its electricity demand via a well-developed intercontinental transmission grid.
By this approach it has been shown that a 100 % renewables-based power generation is technically and ecologically feasible without questioning Germany's high living standard or its status as a highly industrialized country.