2015 | OriginalPaper | Buchkapitel Open Access
14. Archive of Historical Earthquake Data for the European-Mediterranean Area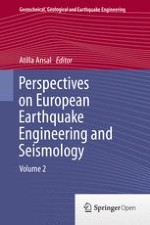 Autoren: Andrea Rovida, Mario Locati
Abstract
The importance of historical earthquake data is largely recognized by both seismologists and engineers, who use such data in a wide range of applications.
At the European-Mediterranean scale, several databases dealing with historical earthquake data – mostly intensity data points – exist and are constantly maintained and updated, as well as national earthquake catalogues. In addition, a number of studies on historical earthquakes are published every year. Most of these activities are being performed at a national scale, depending on each country's needs, and according to diverse methodologies. As a result, the earthquake history of Europe is today fragmented in a puzzle of different, only partially overlapping sets of data, which, at the continent scale, are not homogeneously collected and interpreted. This situation is particularly evident in the frontier areas, where historical earthquakes are often interpreted in a conflicting and/or partial way by the catalogues of the bordering countries. In addition, the background information upon which several historical catalogues are built is not published or not easily accessible.
In recent years, a major effort was made to bridge over these gaps, by establishing cooperation among existing national databases, and creating new ones according to common standards. Particular attention was devoted to retrieve the earthquake background information, that is, the results of historical earthquake investigation in terms of a paper, a report, a book chapter, a map, etc. As most of the information on an historical earthquake can be summarized in a set of Macroseismic Data Points (MDPs) – i.e. a list of localities (name and coordinates) with a macroseismic intensity assessment and the related macroseismic scale – a dedicated effort was addressed to make such data publicly available.
The described activities resulted in the European Archive of Historical Earthquake Data (AHEAD). The Archive is conceived as a pan-European common and open platform supporting the research activities in the field of historical seismology by (i) tracing back, preserving and granting access to the sources of data on the earthquake history of Europe (papers, reports, MDPs, and catalogues), and (ii) establishing relations among these data. AHEAD inventories multiple sets of information concerning each European earthquake in the time-window 1000–1899. The AHEAD web portal (
http://​www.​emidius.​eu/​AHEAD/​
) gives access, as of today, to 4,722 earthquakes and the related background information as provided by 338 data sources. All these data can be queried by earthquake and by study, through a user-friendly web-interface. The distinguishing feature of AHEAD is to grant access not only to one study, but to all the available (published) data sources dealing with each individual earthquake, allowing researchers to take into account the different point of views and interpretations.