14.11.2018 | Original Paper | Ausgabe 3/2018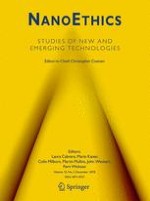 Are Better Workers Also Better Humans? On Pharmacological Cognitive Enhancement in the Workplace and Conflicting Societal Domains
Zeitschrift:
Autoren:

Tony Pustovrh, Franc Mali, Simone Arnaldi
Wichtige Hinweise
Tony Pustovrh is deceased
Abstract
The article investigates the sociocultural implications of the changing modern workplace and of pharmacological cognitive enhancement (PCE) as a potential adaptive tool from the viewpoint of social niche construction. We will attempt to elucidate some of the sociocultural and technological trends that drive and influence the characteristics of this specific niche, and especially to identify the kind of capabilities and adaptations that are being promoted, and to ascertain the capabilities and potentialities that might become diminished as a result. In this context, we will examine what PCE is, and how and why it might be desirable as a tool for adaptation within the workplace. As human beings are, or at least should be allowed to be, more than merely productive, able-bodied and able-minded workers, we will further examine how adaptation to the workplace niche could result in problems in other domains of modern societal life that require the same or other cognitive capabilities. In this context we will also focus on the concept of responsibility and how it pertains to PCE and the modern workplace niche. This will shed some light on the kind of trends related to workplace niche construction, PCE and capability promotion that we can expect in the future, and on the contexts in which this might be either beneficial or detrimental to the individual as a well-rounded human being, and to other members of society.