16.07.2018 | Ausgabe 3/2019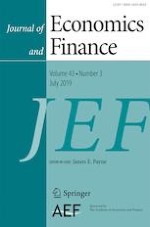 Are common stocks a hedge against inflation in emerging markets?
Zeitschrift:
Autoren:

Nassar S. Al-Nassar, Razzaque H. Bhatti
Abstract
This paper examines the inflation-hedging ability of common stocks in the long run for emerging market countries using monthly data on stock and goods prices over the period 1982:01–20,016:01. Johansen's (J Econ Dyn Control 12:231–254,
1988
) method of cointegration is employed for 28 countries for which the order of integration of the underlying series is the same, and Pesaran et al.'s (J Appl Econom 16:289–326,
2001
) autoregressive distributed lag (ARDL) bounds test is used for 18 countries for which the order of integration is not the same. In only 10 cases is the long-run relationship established between stock and goods prices when the former test is used, whereas such a relationship is established in 7 cases when the latter test is used. The results of error-correction representations normalized on stock prices indicate that stock prices take a long time to return to their long-run equilibrium relation with goods prices. Overall, common stocks provide a good hedge against inflation in the long run in more than one-third of the cases examined. One implication that emerges from these results is that in the majority of the countries, monetary authorities are not able to control inflation by reducing the nominal interest rate. Another implication is that the monetary growth is not the key factor determining the long-run inflation rate in these countries.