2019 | OriginalPaper | Buchkapitel
Are Cryptocurrencies Truly Trustless?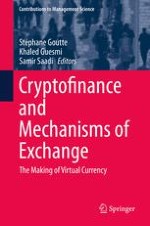 Erstes Kapitel lesen
Autor: Usman W. Chohan
Abstract
A common narrative of cryptocurrencies presents them as "trustless," decentralized, and autonomous systems. The "trustlessness" is meant to suggest lack of need for third-party verification in blockchain technologies, but the term has been somewhat conflated with broader connotations of "trust." This chapter draws out that nuance, and critically assesses that claim, by emphasizing the human element of trust in cryptocurrencies across various contexts. It does so by highlighting four activities that require both direct human intervention and direct human participation, including: "hard forks" to directly change protocols, the management of cryptocurrency exchanges, the emission of ICOs, and investor recourse to traditional governance institutions including courts of law. The findings of the chapter therefore suggest that the cryptocurrency space is not "trustless" in every sense as it is still reliant on the trust-element in human agency and structure.