2019 | OriginalPaper | Buchkapitel
4. Are GCMs and Crop Model Capable to Provide useful Information for Decision Making?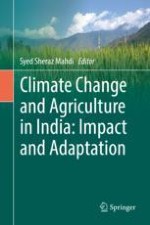 Erstes Kapitel lesen
Autoren: Lalu Das, Hanuman Prasad, Jitendra Kumar Meher, Javed Akhter, S. Sheraz Mahdi
Abstract
Now-a-days simulations from Global Climate Models (GCMs) are extensively used for the purpose of impact assessment and decision making vis-à-vis crop simulation models are run to study the impact of climate change on agriculture sector. The present paper investigated how these models are able to provide useful information for policy making at sub-regional or local scale. The district level past rainfall over West Bengal has been estimated from the monthly district level IMD data through dividing the whole last century into four periods 1901–30, 1931–60, 1961–90 and 1991–2000 and percentage change of rainfall has been calculated with respect to the base period 1971–2000. The annual rainfall trend of 100 years data has revealed that all the districts except Nadia, Jalpaiguri, South Dinajpur and Bardhaman have shown a positive trend. Except Jalpaiguri, South Dinajpur and Nadia, all other districts have received an increased amount of rainfall during monsoon season. Apart from observed station data, how different GCMs from CMIP5 reproduces the observed increasing/decreasing rainfall trends has been judged through conventional statistics. Finally a group of better performing models have been identifed for North and South bengal seperately which can be used as an input for any decision making research. In addition, the future rainfall analysis using the better performing GCMs has revealed a significant increasing trend of seasonal (except winter) andannual rainfall at the end of 21st century . Analysis of percentage change of rainfall reveals that winter rainfall has shown 60–117% surplus in future for different RCP scenarios, whereas the post-monsoon has shown a 1–15% surplus of rainfall in future over North Bengal. On the other hand, 16-25% deficit inannual rainfall has been projected over South bengal whereas there may be 3-24% surplus in postmonsoonrainfall. Such a change can alter the productivity of rice as assessed through Oryza 2000, a crop simulation model for rice. Gangetic West Bengal is expected to experience nominal change in the either sides as rice production increases by about 10% with 1 °C rise in temperature and falls by 30% with a rise of temperature by 2 °C.