1999 | OriginalPaper | Buchkapitel
Are Grains of Sand in the Wheels of International Finance Sufficient to do the Job when Boulders are often Required?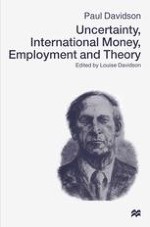 Erstes Kapitel lesen
Autor: Louise Davidson
Verlag: Palgrave Macmillan UK
Enthalten in: Professional Book Archive
In this journal's 'Policy Forum', Eichengreen, Tobin and Wyplosz (1995, p. 164) (hereafter ETW) argue that volatility in foreign exchange markets due to speculation can have 'real economic consequences devastating for particular sectors and whole economies'. To constrain 'speculative behaviour … they (ETW) propose a global transaction tax … to discourage short-term round tripping' (Greenaway, 1995, p. 160). At the same time that this ETW proposal appeared in print, the winter 1994–5 Mexican peso crisis spilled over into the dollar problem. In international financial markets, where image is often more important than reality, the dollar was dragged down by the peso while the German mark and Japanese yen appeared to be the only safe harbours for portfolio fund managers.