2019 | OriginalPaper | Buchkapitel
7. Are High NGDP Growth Targets Consistent With a Dual Mandate of Low Inflation and Maximum Employment Growth and a Low Unemployment Rate?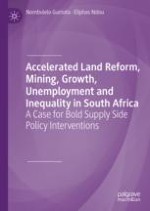 Erstes Kapitel lesen
Autoren: Nombulelo Gumata, Eliphas Ndou
Abstract
We find that employment growth rises significantly due to a positive NGDP growth shock when NGDP growth exceeds 10 per cent. On the other hand, the unemployment rate declines due to a positive NGDP growth shock when NGDP growth exceeds 10 per cent. These findings imply that the NGDP growth threshold matters for the effects of NGDP growth on employment growth and the unemployment rate. In addition, the response of inflation to positive NGDP shocks depends on where inflation is relative to the 3 to 6 per cent target band. Inflation declines more when in low inflation regimes. The exchange rate appreciation and muted increases in nominal wage inflation also result in a decline in the inflation expectations response in high NGDP growth regimes. The policy implication of the results is that a low inflation target is not inconsistent with a high NGDP growth target. Furthermore, low inflation regimes and the exchange rate channel play an important role in neutralising inflationary shocks and dampening the response of the repo rate to inflation shocks in the high NGDP growth regime. Thus, in the South African case, NGDP growth targeting alone is inadequate and should be accompanied by the price stability framework. Otherwise, inflation rises above the 6 per cent threshold of the target band due to positive NGDP growth shocks. This means that a dual mandate must give equal weighting to price stability, output growth and maximum employment growth. An expanded mandate in South Africa which includes a low inflation target, high real GDP growth and maximum employment growth (low unemployment rate) is the appropriate approach monetary policy can take to macroeconomic stabilisation. A lower inflation target and a higher NGDP growth target are not mutually exclusive.