09.05.2020 | Ausgabe 4/2021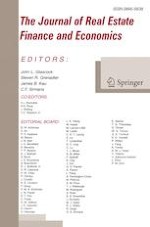 Are Housing Wealth Effects Asymmetric in Booms and Busts?
Evidence from New Zealand
Zeitschrift:
Autoren:

Mairead de Roiste, Apostolos Fasianos, Robert Kirkby, Fang Yao
Wichtige Hinweise
The authors would like to thank Dimitris Christelis, Ashley Dunstan, James Graham, Dean Hyslop, Christie Smith, Sofia Vale, Albert Saiz, Dennis Wesselbaum, as well as the editor, C.F. Sirmans, and an anonymous referee for their valuable comments. We also thank seminar participates at the Reserve Bank of New Zealand, Otago University, and New Zealand Treasury for helpful feedback. We thank Jiten Patel for his research assistance work as a Summer Research Scholar. The first draft of this paper was written while Fasianos was visiting RBNZ, whose hospitality is gratefully acknowledged. The views expressed in the paper do not necessarily reflect those of the Reserve Bank of New Zealand, nor the Hellenic Ministry of Finance. Access to the data used in this study was provided by Statistics New Zealand under conditions designed to give effect to the security and confidentiality provisions of the Statistics Act 1975. The results presented in this study are the work of the authors, not Statistics NZ.
Publisher's Note
Springer Nature remains neutral with regard to jurisdictional claims in published maps and institutional affiliations.
Abstract
This paper investigates the effects of household indebtedness and housing wealth on consumption. To identify exogenous movements of housing wealth and leverage, we estimate housing supply elasticities for New Zealand urban centers. We construct synthetic panel series by using household survey data to estimate the marginal propensity to consume out of exogenous changes in housing wealth, while controlling for the household leverage ratio. Our empirical results show that, on average, the marginal propensity to consume out of housing wealth is about 3 cents out of one dollar. But it is larger, about 4 cents, in response to falling house wealth than to increasing housing wealth, about 2 cents. We further investigate the role of household indebtedness in accounting for the asymmetric effect. Our findings suggest that household leverage reinforces the housing wealth effect in a housing bust, but dampens the housing wealth effect in a boom.