2019 | OriginalPaper | Buchkapitel
Are We Training Our Novices Towards Quality 2D Profiles for 3D Models?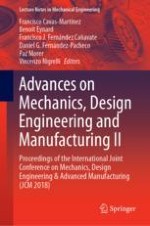 Erstes Kapitel lesen
Autoren: C. González-Lluch, R. Plumed
Abstract
In the history-based, feature-based, parametric CAD approach, 2D profile sketches are the basis for 3D models. Fully-constraining profiles is mandatory to create robust profiles. At present, neither CAD applications nor Model Quality Testing Tools usually check whether 2D profiles contain redundant constraints. Besides, our experience shows that novices tend to introduce redundant constraints. We hypothesize that 2D profiles over-constrained with redundant relations are more difficult to edit than those that avoid redundancies. In the present work―and as a first step to demonstrate this hypothesis―an experiment was conducted. Students of the subject "Graphics engineering" were taught on the creation of constrained 2D profiles. Then, they were asked two questions. On the one hand, novices had to identify and reason whether a simple given profile was fully-constrained, over-constrained or under-constrained. On the other hand, they had to identify and point out the types of the constraints. The results showed that in spite that novices received a specific training, roughly half of them failed to say if the 2D profile sketch was fully-constrained and which type of constraints it contained. Furthermore, the results of the second question revealed that more than the half of students did not recognize perpendicularity as a geometric constraint. As future work, we will try to demonstrate whether a reinforced training through simple exercises and a quick and effective feedback, will allow novices to improve the identification and removal of redundant 2D constraints when drawing 2D profile sketches (thus helping to produce robust profiles).