01.04.2009 | Original Paper | Ausgabe 3/2009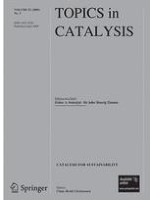 Aromatic Production from Catalytic Fast Pyrolysis of Biomass-Derived Feedstocks
Zeitschrift:
Autoren:

Torren R. Carlson, Geoffrey A. Tompsett, William C. Conner, George W. Huber
Wichtige Hinweise
Electronic supplementary material
The online version of this article (doi:
10.​1007/​s11244-008-9160-6
) contains supplementary material, which is available to authorized users.
Abstract
The conversion of biomass compounds to aromatics by thermal decomposition in the presence of catalysts was investigated using a pyroprobe analytical pyrolyzer. The first step in this process is the thermal decomposition of the biomass to smaller oxygenates that then enter the catalysts pores where they are converted to CO, CO2, water, coke and volatile aromatics. The desired reaction is the conversion of biomass into aromatics, CO2 and water with the undesired products being coke and water. Both the reaction conditions and catalyst properties are critical in maximizing the desired product selectivity. High heating rates and high catalyst to feed ratio favor aromatic production over coke formation. Aromatics with carbon yields in excess of 30 molar carbon% were obtained from glucose, xylitol, cellobiose, and cellulose with ZSM-5 (Si/Al = 60) at the optimal reactor conditions. The aromatic yield for all the products was similar suggesting that all of these biomass-derived oxygenates go through a common intermediate. At lower catalyst to feed ratios volatile oxygenates are formed including furan type compounds, acetic acid and hydroxyacetaldehyde. The product selectivity is dependent on both the size of the catalyst pores and the nature of the active sites. Five catalysts were tested including ZSM-5, silicalite, beta, Y-zeolite and silica–alumina. ZSM-5 had the highest aromatic yields (30% carbon yield) and the least amount of coke.