01.03.2015 | Ausgabe 3/2015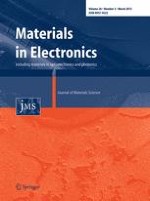 Arrays of ZnxCd1−xSe/TiO2 nanotubes: fabrication by ion-exchange and photovoltaic applications
Autoren:

Zhen Li, Libo Yu, Yingbo Liu, Shuqing Sun
Wichtige Hinweise
Electronic supplementary material
The online version of this article (doi:
10.​1007/​s10854-014-2586-7
) contains supplementary material, which is available to authorized users.
Abstract
Free-standing TiO2 nanotube (NT) array films were prepared by anodization approach as support materials for quantum dots sensitized solar cells (QDSSCs). The ZnxCd1−xSe quantum dots (QDs) layers with tunable compositions have been deposited on the TiO2 NT array film via a simple ion-exchange approach. The optical absorptions of the ZnxCd1−xSe/TiO2 NT can be controllably tuned to cover almost the entire visible region by changing the atomic ratio of Zn to Cd. In the fabricated QDSSCs based on these ZnxCd1−xSe/TiO2 NT array photoanodes, the photovoltaic performance gradually improved as the composition changes from Zn-rich to Cd-rich of ZnxCd1−xSe QDs layers on TiO2 NT arrays. In contrast with other ZnxCd1−xSe/TiO2 NT solar cells, the Zn0.13Cd0.87Se/TiO2 NT solar cell yielded a highest power conversion efficiency of 2.15 %, indicating the most effective band alignment is obtained with Cd-rich ZnxCd1−xSe QDs layers. It can be anticipated that tunable energy band of QDs controlled by the ratio of atoms can contribute to higher efficiency QDSSCs.