2015 | OriginalPaper | Buchkapitel
Art in the Globalised Era: A Disembodied Journey with Traces in the Past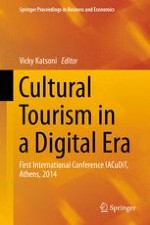 Erstes Kapitel lesen
Autoren: Spiros Polimeris, Christine Calfoglou
Abstract
In this paper we explore the nature of art in the globalised, post-modernist era, an era paradoxically combining unity and fragmentation. In doing so, we postulate a working hypothesis to the effect that a journey involves the potential of an experience that requires some kind of bodily presence, in our case, the 'body' of the work of art or/and that of the viewer/interactant, and entails reminiscence bound up with the spatiotemporal coordinates of the experience. Digital art, we argue, globally accessible via the Web and determined by the medium it employs, denies itself this bodily presence and, by annihilating time and space boundaries and allowing its numerous, simultaneous viewers/interactants to engulf it in Benjamin's (The work of art in the age of mechanical reproduction. In W. Benjamin
Illuminations
, pp. 217–51, Schocken Books, 1936/1968) terms, marks a radical change in the journey requirements referred to above. In the absence of a body, the distance between the work of art and the viewer is gone and the immersion that follows (see Polimeris,
Digital Future and Art: Institutional Management Perspectives
(
Ψηφιακό Μέλλον και Τέχνη: Προοπτικές θεσμικής διαχείρισης
), Unpublished PhD dissertation, Athens, The Panteion University, 2011) results in loss of the spatiotemporal dimension and reminiscence. The digital or digitalized work of art somehow needs to 'pay' for its universal accessibility by becoming impossible to pin down and, thus, ever-elusive. Like the globalised era it is mostly a child of, it paradoxically combines immediacy and timelessness, lethe. Yet, as we go on to show, like the globalised era, the phenomenon can trace its roots back in times bygone.