2017 | OriginalPaper | Buchkapitel
Artifact Elimination in Neurosciences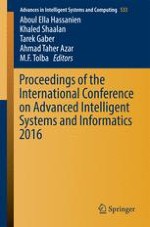 Erstes Kapitel lesen
Autoren: Thea Radüntz, Mohamed A. Tahoun, Mohammed A-Megeed, Beate Meffert
Abstract
Artifact elimination is a central issue in neurosciences. A method that has established itself as an important part of EEG analysis is the application of independent component analysis (ICA). It decomposes the multi-channel EEG into linearly independent components (ICs) that then can be classified as artifact or EEG signal component. However, classification of the ICs still requires visual, time-intensive inspection by experts.
In order to develop an automated artifact elimination method, we apply several classification algorithms on feature vectors extracted from ICA components via image processing algorithms. We compare their performance with the ratings of experts and identify range filtering as a feature extraction method with great potential. Range images classified with artificial neuronal networks yield accuracy rates of 95.5 %. The results are very promising regarding automated IC artifact recognition.
Compared to existing automated solutions the proposed method has the main advantage that it is not limited to a specific number or type of artifact. Furthermore, it is an automatic, real-time capable, and practical tool that reduces the time-intensive manual selection of ICs for artifact removal.