28.04.2020 | Curmudgeon Corner | Ausgabe 3/2020 Open Access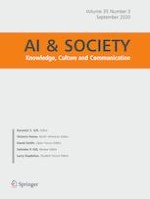 Artificial intelligence vs COVID-19: limitations, constraints and pitfalls
Zeitschrift:
Autor:

Wim Naudé
Wichtige Hinweise
Publisher's Note
Springer Nature remains neutral with regard to jurisdictional claims in published maps and institutional affiliations.
1

Introduction

The COVID-19 pandemic poses a number of challenges to the Artificial Intelligence (AI) Community. Among these challenges are "Can AI help track and predict the spread of the infection?", "Can AI help in making diagnoses and prognoses?", "Can it be used in the search for treatments and a vaccine?" and "Can it be used for social control?" This paper is an attempt to provide an early review of how AI have so far been contributing in this regard, and to note limitations, constraints, and pitfalls. These include a lack of data, too much (noisy and outlier) data, and growing tension between data privacy concerns and public health imperatives.

To start out, let me discuss the actual and potential uses of AI in the fight against COVID-19.
2

Tracking and prediction

A number of promising initiatives, however, have been started to gather and share data -both existing data, new data, and to train new AI models. These include the World Health Organization's (WHO) Global Research on Coronavirus Disease Database, which also provides links to other similar initiatives. One of these is the open access data of the GISAID Initiative (formerly the Global Initiative on Sharing All Influenza Data). Amongst other initiatives, perhaps the most ambitious is the joint initiative between Semantic Scholar, the Allen Institute for Artificial Intelligence, Microsoft, Facebook, and others, to make openly available the COVID- 19 Open Research Dataset (CORD-19) which contains around 44,000 scholarly articles for data mining.
3

Diagnosis and prognosis

In addition to potentially tracking and predicting the spread of COVID-19, AI can also be used in the diagnosis and prognosis of the disease. In fact, this is perhaps where most of the first rush of AI initiatives focused on. Fast and accurate diagnosis of COVID-19 can save lives, limit the spread of the disease, and generate data on which to train AI models. There is growing effort to train AI models to diagnose COVID-19 using chest radiography images. According to a recent review of AI applications against COVID-19 by Bullock et al. (

2020

), argues that AI can be as accurate as humans, can save radiologists' time, and perform a diagnosis faster and cheaper than with standard tests for COVID-19. Both X-rays and computed tomography (CT) scans can be used. Representative contributions in this regard include Chen et al. (

2020b

) and Wang and Wong (

2020

). The latter developed

COVID

-

Net

, a deep convolutional neural network (see e.g. Rawat and Wang (

2017

)), which can diagnose COVID-19 from chest radiography images. It has been trained on open repository data from around 13,000 patients with various lung conditions, including COVID-19. However, as the authors indicate, it is "by no means a production-ready solution", and they call on the scientific community to develop it further, in particular to "improve sensitivity" (Rawat and Wang

2017

, p. 6).

Given that not all people diagnosed with COVID-19 will need intensive care, the ability to be able to forecast who will be affected more severely can help in targeting assistance and planning medical resource allocation and utilization. Yan et al. (

2020

) used Machine Learning to develop a

prognostic prediction algorithm

to predict the mortality risk of a person that has been infected, using data from (only) 29 patients at Tongji Hospital in Wuhan, China. And Jiang et al. (

2020

) presents an AI that can predict with 80% accuracy which person affected with COVID-19 may go on to develop acute respiratory distress syndrome (ARDS). The sample that they used to train their AI system is, however, small (only 53 patients) and restricted to two Chinese hospitals.

Largely, the potential of AI is diagnosis is not yet carried over into practice, although it has been reported that a number of Chinese hospitals have deployed "AI-assisted" radiology technologies. Radiologists elsewhere have expressed their concern that there is not enough data available to train AI models, that most of the available COVID-19 images come from Chinese hospitals and may suffer from selection bias, and that using CT-scans and X-rays may contaminate equipment and spread the disease further. Indeed, the use of CT scans in European hospitals has dropped after the pandemic broke, perhaps reflecting this concern (Ross and Robbins

2020

). It is probably correct as Coldeway (

2020

) concludes, "No one this spring is going to be given a coronavirus diagnosis by an AI doctor". It also seems that comparatively less effort is on using AI for very early diagnostic purposes, for instance, in identifying whether someone is infected before it shows up in X-rays or CT scans, or on finding data-driven diagnostics that have less contamination risk.
4

Treatments and vaccines

A third area where AI can potentially make a contribution in the fight against COVID-19 is in identifying possible treatments and vaccines. Even long before the COVID-19 outbreak, AI was lauded for its potential to contribute to new drug discovery, see e.g. Coldeway (

2019

), Fleming (

2018

), Segler et al. (

2018

) and Smith (

2018

). In the case of COVID-19, a number of research labs and data centers have already indicated that they are recruiting AI to search for treatments for and a vaccine against COVID-19. The hope is that AI can accelerate both the processes of discovering new drugs as well as for repurposing existing drugs. A number of researchers have already reported discovering drugs for repurposing. These include Beck et al. (

2020

) who report results from using Machine Learning to identify that an existing drug,

atazanavir

, could potentially be repurposed to treat COVID-19, and Stebbing et al. (

2020

), who identified

Baricitinib,

used to treat rheumatoid arthritis and myelofibrosis, as a potential treatment for COVID-19.

It is not very likely that these treatments (in particular a vaccine) will be available in the near future, at least to be of much use during the current pandemic. The reason is that the medical and scientific checks, trails, and controls that need to be performed before these drugs will be approved, once they have been identified and screened, will take time—according to estimates up to 18 months for a vaccine (Regalado

2020

). See also Vanderslott et al. (

2020

) for an explanation of the process that a potential anti-COVID-19 drug will have to go through.
6

Concluding remarks

In conclusion, AI has the potential to be a tool in the fight against COVID-19 and similar pandemics. However, from the above rapid scan of the current state of play, one has to concur with as Petropoulos (

2020

) that "AI systems are still at a preliminary stage, and it will take time before the results of such AI measures are visible". Bullock et al. (

2020

) in one of the first surveys of AI models used against COVID-19 agrees, concluding that "very few of the reviewed [AI] systems have operational maturity at this stage."

Clearly, data is central to whether AI will be an effective tool against future epidemics and pandemics. The fear is that public health concerns would trump data privacy concerns. Mission creep may occur, with governments continuing the extraordinary surveillance of their citizens long after the pandemic is over. Thus, concerns about the erosion of data privacy are justified.

Given the public health threat posed by the pandemic, the European GDPR (Article 9) allows personal data collection and analysis, as long as it has a clear and specific public health aim (Ienca and Vayena

2020

). Flexibility to gather and analyze big data promptly is essential in combatting the pandemic, even if it may require that the authorities collect more personal data than many people would feel comfortable with. Therefore, it is crucial that the authorities take particular care in their handling of such data and their justifications and communications to the public at large. The danger is that the people could lose trust in government, which will, as Ienca and Vayena (

2020

, p. 1) pointed out, "make people less likely to follow public-health advice or recommendations and more likely to have poorer health outcomes".

Finally, although AI's use has so far been rather limited, the pandemic and the policy responses to it may accelerate the digitalization of the economy, including the move towards greater automation of human labor, the re-shoring of production activities, and growing market dominance by a few large digital platform firms. As such, the innovations in AI technology that may be an outcome of the present crisis, may require of society to make faster progress to lay down appropriate mechanisms for the governance of AI.
Acknowledgements
Open Access funding provided by Projekt DEAL.
Curmudgeon Corner
is a short opinionated column on trends in technology, arts, science and society, commenting on issues of concern to the research community and wider society. Whilst the drive for super-human intelligence promotes potential benefits to wider society, it also raises deep concerns of existential risk, thereby highlighting the need for an ongoing conversation between technology and society. At the core of Curmudgeon concern is the question: What is it to be human in the age of the AI machine? -Editor.
Open Access
This article is licensed under a Creative Commons Attribution 4.0 International License, which permits use, sharing, adaptation, distribution and reproduction in any medium or format, as long as you give appropriate credit to the original author(s) and the source, provide a link to the Creative Commons licence, and indicate if changes were made. The images or other third party material in this article are included in the article's Creative Commons licence, unless indicated otherwise in a credit line to the material. If material is not included in the article's Creative Commons licence and your intended use is not permitted by statutory regulation or exceeds the permitted use, you will need to obtain permission directly from the copyright holder. To view a copy of this licence, visit
http://​creativecommons.​org/​licenses/​by/​4.​0/​
.
Publisher's Note
Springer Nature remains neutral with regard to jurisdictional claims in published maps and institutional affiliations.