2017 | OriginalPaper | Buchkapitel
19.
Aspergillus

Lipases: Biotechnological and Industrial Application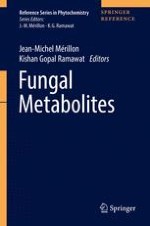 Erstes Kapitel lesen
Autoren: Fabiano Jares Contesini, Felipe Calzado, Jose Valdo Madeira Jr., Marcelo Ventura Rubio, Mariane Paludetti Zubieta, Ricardo Rodrigues de Melo, Thiago Augusto Gonçalves
Abstract
Lipases are enzymes with remarkable properties and catalytic versatility. These proteins are capable of catalyzing hydrolytic and synthetic reactions, allowing the production of different compounds.
Aspergillus
are important producers of lipases, since they are able to secrete large amounts of these proteins to the extracellular media. Several studies have reported the importance of fermentation parameters as well as genetic engineering of
Aspergillus
strains in order to improve lipase production. Different
Aspergillus
species secrete lipases with interesting characteristics such as thermostability, stability in a wide pH range, stability in organic solvents, and enantioselectivity toward the substrate. The obtainment of lipases with highlighted characteristics for use in industry is the main focus of several studies. Such lipases can be obtained with screening of
Aspergillus
strains, protein engineering, and immobilization of lipases that can frequently improve thermostability and enantioselectivity. Among the applications of lipases from
Aspergillus
, there are studies on the improvement of sensorial properties of different products in the food industry, compatibility with detergents for removal of fat stains from fabrics, and the obtainment of enantiopure pharmaceuticals.