2018 | OriginalPaper | Buchkapitel
Assentication: User De-authentication and Lunchtime Attack Mitigation with Seated Posture Biometric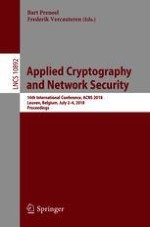 Erstes Kapitel lesen
Autoren: Tyler Kaczmarek, Ercan Ozturk, Gene Tsudik
Abstract
Biometric techniques are often used as an extra security factor in authenticating human users. Numerous biometrics have been proposed and evaluated, each with its own set of benefits and pitfalls. Static biometrics (such as fingerprints) are geared for discrete operation, to identify users, which typically involves some user burden. Meanwhile, behavioral biometrics (such as keystroke dynamics) are well-suited for continuous and more unobtrusive operation. One important application domain for biometrics is
de-authentication
: a means of quickly detecting absence of a previously-authenticated user and immediately terminating that user's secure sessions. De-authentication is crucial for mitigating so-called
Lunchtime Attacks
, whereby an insider adversary takes over an authenticated state of a careless user who leaves her computer.
Motivated primarily by the need for an unobtrusive and continuous biometric to support effective de-authentication, we introduce Assentication – a new hybrid biometric based on a human user's seated posture pattern. Assentication captures a unique combination of physiological and behavioral traits. We describe a low-cost fully functioning prototype that involves an office chair instrumented with 16 tiny pressure sensors. We also explore (via user experiments) how Assentication can be used in a typical workplace to provide continuous authentication (and de-authentication) of users. We experimentally assess viability of Assentication in terms of uniqueness by collecting and evaluating posture patterns of a cohort of 30 users. Results show that Assentication yields very low false accept and false reject rates. In particular, users can be identified with
\(94.2\%\)
and
\(91.2\%\)
accuracy using 16 and 10 sensors, respectively.