28.08.2018 | Original Article | Ausgabe 5/2018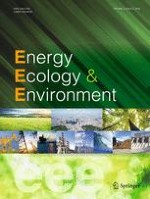 Assessing bioethanol extraction potential from waste pulps of cassava (
Manihot esculenta

Crantz) via aerobic fermentation
Zeitschrift:
Autoren:

Mark Anthony A. Icalina, Reymar H. Jaro, Don Nelson C. Potato, Romnick T. Talemporos, Lover G. Manuel, Princess M. Napiñas, Greg M. Cubio, Alexander L. Ido, Renato O. Arazo
Abstract
The advocacy of producing biofuels from wastes would answer the call for energy and environmental sustainability. This call is very timely considering the issues of global warming, increasing greenhouse gas emissions, diminishing natural resources, and enlarging human population. For one, the increasing generation of waste pulps from the growing numbers of starch-producing industries using cassava (
Manihot esculenta
Crantz) has become alarming because the improper disposal of these causes putrefaction odor, leachate contamination on water bodies, illnesses/diseases of community residents, and so on. In this work, the potential of cassava waste pulps (CWP) from starch industry was assessed with regard to the extraction of bioethanol via aerobic fermentation. The effect of yeast loading (0–4 tsp) and mashing duration (3–11 min) was evaluated on their influence on the bioethanol yield in CWP fermentation through central composite design of the response surface methodology. The result showed that 5.93 ± 0.03 mL of bioethanol could be extracted from a kilogram of fresh CWP after 7-day aerobic fermentation at conditions of 7 min mashing duration (42 °C) and 1 tsp yeast loading. Yeast loading and mashing duration are both significant with regard to bioethanol production. The gas chromatography analysis revealed 0.08% v/v bioethanol in the fermentation broth.