01.10.2019 | Original Article | Ausgabe 20/2019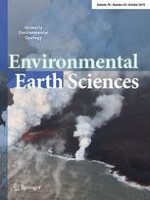 Assessing climate change impacts on water resources in the Benue River Basin, Northern Cameroon
Zeitschrift:
Autoren:

Rodric M. Nonki, André Lenouo, Christopher J. Lennard, Clément Tchawoua
Wichtige Hinweise
Electronic supplementary material
Publisher's Note
Springer Nature remains neutral with regard to jurisdictional claims in published maps and institutional affiliations.
Abstract
The Benue River Basin (BRB) is a major tributary of the Niger River Basin (NRB) and the second-largest river in Cameroon. It serves many water resource functions including irrigation, hydroelectricity production and navigation. Previous research has indicated that recent climate change (CC) has had significant impacts on local and regional hydrological regimes of this watershed. In this study, CC scenarios were integrated with a hydrological model to evaluate the influence of CC on water resources in the BRB. Historical and projected scenarios of dynamically downscaled temperature and precipitation from the REMO regional climate model (RCM) forced by the boundary conditions data of the Europe-wide Consortium Earth System Model (EC-ESM) and the Max Planck Institute-Earth System Model (MPI-ESM) general circulation models (GCMs) were used. The historical runs of the REMO simulations were first evaluated after which downscaled temperature and precipitation data were used as input for the HBV-Light hydrological model to simulate water balance components. The mean climate and hydrological variables for the historical (1981–2005) and the two future periods (2041–2065 and 2071–2095) were compared to assess the potential impact of CC on water resources in the middle and late twenty-first century under three greenhouse gases (GHGs) concentration scenarios, the Representative Concentration Pathways (RCPs) 2.6, 4.5 and 8.5. Our results show that (a) the HBV-Light hydrological model could effectively simulate the streamflow change in the BRB; (b) annual precipitation will decrease between 1 and 10% while both annual temperature and potential evapotranspiration (PET) will increase between 8–18 and 6–30%, respectively, under both scenarios, models and future periods; c) the combination of reduced precipitation and increase of PET results in a significant decrease in streamflow in the BRB (up to 51%) and this will move the basin to a much drier environmental state. Therefore, CC adaptation strategies and future development planning in this region must consider these important decreases of discharge.