01.01.2015 | Ausgabe 1/2015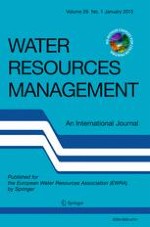 Assessing Financial Loss due to Pluvial Flooding and the Efficacy of Risk-Reduction Measures in the Residential Property Sector
Zeitschrift:
Autoren:

Janez Sušnik, Clemens Strehl, Luuk A. Postmes, Lydia S. Vamvakeridou-Lyroudia, Hans-Joachim Mälzer, Dragan A. Savić, Zoran Kapelan
Wichtige Hinweise
Electronic supplementary material
The online version of this article (doi:
10.​1007/​s11269-014-0833-6
) contains supplementary material, which is available to authorized users.
Abstract
A novel quantitative risk assessment for residential properties at risk of pluvial flooding in Eindhoven, The Netherlands, is presented. A hydraulic model belonging to Eindhoven was forced with low return period rainfall events (2, 5 and 10-year design rainfalls). Three scenarios were analysed for each event: a baseline and two risk-reduction scenarios. GIS analysis identified areas where risk-reduction measures had the greatest impact. Financial loss calculations were carried out using fixed-threshold and probabilistic approaches. Under fixed-threshold assessment, per-event Expected Annual Damage (EAD) reached €38.2 m, with reductions of up to €454,000 resulting from risk-reduction measures. Present costs of flooding reach €1.43bn when calculated over a 50-year period. All net-present value figures for the risk-reduction measures are negative. Probabilistic assessment yielded EAD values up to more than double those of the fixed-threshold analysis which suggested positive net-present value. To the best of our knowledge, the probabilistic method based on the distribution of doorstep heights has never before been introduced for pluvial flood risk assessment. Although this work suggests poor net-present value of risk-reduction measures, indirect impacts of flooding, damage to infrastructure and the potential impacts of climate change were omitted. This work represents a useful first step in helping Eindhoven prepare for future pluvial flooding. The analysis is based on software and tools already available at the municipality, eliminating the need for software upgrading or training. The approach is generally applicable to similar cities.