01.04.2019 | Original Article | Ausgabe 8/2019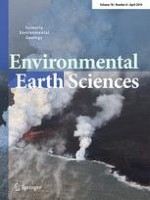 Assessing mine water quality using a hierarchy fuzzy variable sets method: a case study in the Guojiawan mining area, Shaanxi Province, China
Zeitschrift:
Autoren:

Wang Tiantian, Jin Dewu, Yang Jian, Liu Ji, Wang Qiangmin
Wichtige Hinweise
Publisher's Note
Springer Nature remains neutral with regard to jurisdictional claims in published maps and institutional affiliations.
Abstract
It is essential to assess mine water quality before this resource can be comprehensively utilized. The objective of this paper was to develop an integrated approach that can be applied for mine water quality assessment. An improved analytic hierarchy process (IAHP) method was used to calculate the weights of evaluation parameters, while fuzzy variable sets were used to determine the classification of mine water quality. Guojiawan mining area in Shaanxi Province, China, was chosen as the study area for this research and concentrations of total dissolved solids, chemical oxygen demand, chloride, sulfate, fluoride, and arsenic, as well as pH were utilized as water quality assessment factors. A total of 16 water samples, 13 samples from Guojiawan coal mine and three samples from Beiniuchuan River near the mine, were collected. The results show that four of these samples belonged to class III (roof water and river water) and encompass 25% of the total, and it can be used for domestic drinking, irrigation and industrial purposes, directly. While three belonged to class V and were derived from the auxiliary and main haulage roadways as well as the 51140 face cutting. They can be used for some industrial purpose after corresponding treatment. This latter group of samples accounted for 18.75% of the overall total, while the remaining nine were evaluated as class IV, encompassing 56.25% of the total, and they can be used for irrigation directly and domestic drinking after proper treatment.