18.02.2015 | Ausgabe 1/2016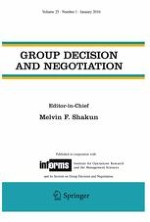 Assessing Personality Patterns of Functioning in a Decision-Making Ambiguous Task: The Rorschach Reality–Fantasy Scale (RFS-2)
Zeitschrift:
Autoren:

S. Tibon-Czopp, L. Appel, R. Zeligman
Abstract
Various studies suggest that individual differences in personality patterns of functioning are strong determinants of both psychopathological manifestations and negotiation effectiveness in high functioning individuals. It has been argued that the lack of empirical confirmation for these claims is attributable to methodological limitations. The present paper suggests using the
Reality–Fantasy Scale Version 2
(
RFS-2
), as a measure of these patterns while confronting the ambiguous task of the Rorschach Inkblot Method. Participants were three samples of young Israeli adults collected in three periods that differ in terms of frequency and severity of terrorist attacks conducted against civilians. The findings point out that unlike the level of subjective distress, which was lower in less threatening periods, fundamental personality characteristics (i.e. the capacity for differentiation and integration of internal and external realms of experience) were found to be similar in all the three samples despite notable changes in external circumstances of the long standing, fluctuating political conflict in the Middle East.