17.03.2016 | LCA COMMUNICATION AND LCA FOR ISO LABELS | Ausgabe 8/2016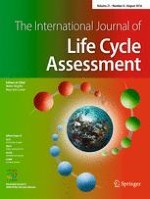 Assessing product environmental performance with PEF methodology: reliability, comparability, and cost concerns
Zeitschrift:
Autoren:

Emma Ojala, Ville Uusitalo, Terhi Virkki-Hatakka, Antti Niskanen, Risto Soukka
Wichtige Hinweise
Responsible editor: Matthias Finkbeiner
Abstract
Purpose
The Product Environmental Footprint (PEF) method was launched by the European Commission to harmonize the measurement of the product's environmental performance. The PEF aims to increase the supply of green products in EU markets by lowering the cost of measuring the product's environmental performance, enabling reliable environmental claims, and conducting proper product comparison. This study assesses whether the methodological choices of PEF enable reliable and comparable PEF studies to be conducted in a cost-efficient way.
Methods
The PEF was compared with ISO 14044, ISO/TS 14067, and the Greenhouse Gas Protocol Product Standard to identify the differences in the methodological choices. From a practical perspective, the possible challenges for PEF that could not be identified by a method comparison were obtained via interviews. The interviewees were company representatives participating in a 3-year PEF pilot phase to create Product Environmental Footprint Category Rules (PEFCR). To discover the possible advantages and disadvantages of the PEF, the methodological choices for PEF itself were assessed from the standpoints of reliability, comparability, and cost. In conclusion, some proposals for improvements have been suggested.
Results and discussion
The impact assessment phase, i.e., some of the predefined impact assessment methods, together with a selected normalization method include disadvantages as regards reliability and comparability. They are not sufficiently mature to properly reflect both the product studied and its potential environmental impact. From a cost perspective, the inventory analysis phase increases the workload due to the cutoff ban, the numerous predefined impact assessment categories, and the data quality assessment of all data. However, the predefined issues, e.g., requirements for data quality to be determined in PEFCRs, could also increase the comparability and lower the costs of the PEF study, since these need not be determined separately for each study. Additionally, the reliability maybe increased due to the data quality assessment of all data.
Conclusions
Currently, in the PEFs 3-year pilot phase, both advantages and disadvantages exist as regards reliability, costs, and comparability. Since PEF aims are important, the Commission and PEFCR developers should devote time to finding the most appropriate methodological choices and continue developing the method further. It is important to find a balance between comparability, reliability, and costs. Additionally, the current issues and characteristics of EU green products market should be taken into account when implementing PEF.