28.04.2018 | Paper | Ausgabe 5/2018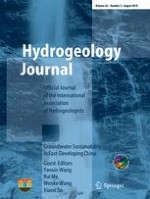 Assessing the influence of climate change and inter-basin water diversion on Haihe River basin, eastern China: a coupled model approach
Zeitschrift:
Autoren:

Jun Xia, Qiang Wang, Xiang Zhang, Rui Wang, Dunxian She
Wichtige Hinweise
Published in the special issue "Groundwater sustainability in fast-developing China"
Abstract
The modeling of changes in surface water and groundwater in the areas of inter-basin water diversion projects is quite difficult because surface water and groundwater models are run separately most of the time and the lack of sufficient data limits the application of complex surface-water/groundwater coupling models based on physical laws, especially for developing countries. In this study, a distributed surface-water and groundwater coupling model, named the distributed time variant gain model–groundwater model (DTVGM-GWM), was used to assess the influence of climate change and inter-basin water diversion on a watershed hydrological cycle. The DTVGM-GWM model can reflect the interaction processes of surface water and groundwater at basin scale. The model was applied to the Haihe River Basin (HRB) in eastern China. The possible influences of climate change and the South-to-North Water Diversion Project (SNWDP) on surface water and groundwater in the HRB were analyzed under various scenarios. The results showed that the newly constructed model DTVGM-GWM can reasonably simulate the surface and river runoff, and describe the spatiotemporal distribution characteristics of groundwater level, groundwater storage and phreatic recharge. The prediction results under different scenarios showed a decline in annual groundwater exploitation and also runoff in the HRB, while an increase of groundwater storage and groundwater level after the SNWDP's operation. Additionally, as the project also addresses future scenarios, a slight increase is predicted in the actual evapotranspiration, soil water content and phreatic recharge. This study provides valuable insights for developing sustainable groundwater management options for the HRB.