2017 | OriginalPaper | Buchkapitel
26. Assessing the Metrological Performance of DIC Applied on RGB Images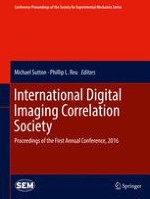 Erstes Kapitel lesen
Autoren: Benoît Blaysat, Michel Grédiac, Frédéric Sur
Abstract
Thanks to the rise of digital reflex cameras, RGB CMOS sensors present nowadays interesting features, at relatively low prices. For instance, the Canon 5DSR sensor displays 50 million pixels. Nevertheless, such cameras being dedicated to photography and not to measurement, their high pixel density makes the associated sensor noise to be relatively high compared to the sensor noise of measurement cameras. Moreover, a Bayer filter mosaic is added in front of the pixels of such sensors in order to produce RGB images by interpolation. Embedded camera processors demosaice these data to elaborate full RGB pictures. Additional post-processing steps, including white balance and gamma correction, are also used in order to prevent any color shift and to give a pleasing-to-the-eye output.
These post-processing steps considerably transform the raw sensor data to produce the output images. The fundamental assumption of DIC, namely the conservation of brightness for a given material point, may thus be violated.
In this context, we propose in this study a consistent use of the separate channels of RGB sensors for the DIC minimization. The metrological performance of the DIC measurement using this approach is discussed and compared to that dealing with "classic" gray level images.