01.05.2013 | Special Issue | Ausgabe 2/2013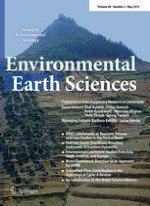 Assessing the relevance of subsurface processes for the simulation of evapotranspiration and soil moisture dynamics with CLM3.5: comparison with field data and crop model simulations
Zeitschrift:
Autoren:

Sebastian Gayler, Joachim Ingwersen, Eckart Priesack, Thomas Wöhling, Volker Wulfmeyer, Thilo Streck
Abstract
Plant water uptake is a crucial process linking water fluxes in the soil–plant–atmosphere continuum. Soil water extraction by roots affects the dynamics and distribution of soil moisture. Water supply of plants controls transpiration, which makes up for an important fraction of the energy balance at the land surface, and influences soil–vegetation–atmosphere feedback processes. Therefore, efficient algorithms for an accurate estimation of root water uptake are essential in land-surface models that are coupled with climate models, in agricultural crop models that predict water budget and plant growth at the field and plot scale, and in hydrological models. Due to different purposes and demands on computational time, the degree of detail in representing belowground processes varies considerably between these model types. This study investigates the impact of the degree of detail in process descriptions of root growth and water uptake and of information about soil hydraulic properties on simulated seasonal patterns of evapotranspiration and soil moisture in a field study with winter wheat (
Triticum aestivum L. cv. Cubus
). Evapotranspiration was well simulated by CLM3.5 until the beginning of crop senescence, but it overestimates the water flux through plants in the last three weeks of the vegetation period and showed a lower performance in simulating soil moisture compared to crop models. The best simultaneous fit of soil moisture and latent heat flux was achieved by the crop model XN-SPASS, which consists of the most detailed representation of root growth dynamics. The results indicate the importance of implementing improved belowground process descriptions for advanced simulations with coupled hydrological and atmospheric models.