01.08.2014 | Original Article | Ausgabe 4/2014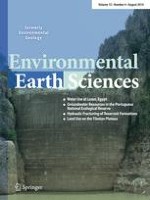 Assessment of heavy metal contamination status in sediments and identification of pollution source in Daye Lake, Central China
Zeitschrift:
Autoren:

Jin Zhang, Zhao Hua Li, Jin Chen, Min Wang, Ran Tao, Dan Liu
Abstract
This research presents a detailed study which was performed to infer the quantity of metal (Cd, Cr, Pb, Zn, Cu and Fe) contents in sediments of Daye Lake, Central China. The geo-accumulation (
I
geo
) and potential ecological risk (PER) of these metals were assessed. The results reveal that: (1) the mean value of
I
geo
ranked an order of Fe (class 6) > Cd (class 5) > Pb (class 3) > Zn (class 2) > Cr (Class 1) > Cu (Class 0); (2) Potential ecological risk (PER) values calculated for all these metals at different sampled points in Daye Lake exceeded the value of very high risk. Multivariate statistical analyses were carried out to determine the relationship between these six metals and to identify the possible pollution sources, with the results suggesting that the metal content in the sediments has three patterns: the first pattern includes Pb, Cd and Cr which were mainly present due to discharged water by smelting industries; second pattern contains Zn and Cu which mainly originated from the waste residue of the copper mining industry; the third pattern is Fe which is mainly related to mine tailing leaches. This study indicates very high metal content levels in the sediments, which may have adverse risks (average PER = 7,771.62) for the lake's ecosystem and human beings associated with Daye Lake.