2012 | OriginalPaper | Buchkapitel
4. Assessment of SOSM Techniques Applied to Fuel Cells. Case Study: Electric Vehicle Stoichiometry Control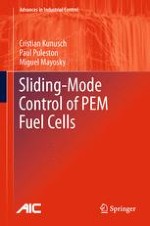 Erstes Kapitel lesen
Autoren: Cristian Kunusch, Paul Puleston, Miguel Mayosky
Verlag: Springer London
Abstract
The feasibility of SOSM techniques to control PEM fuel cells is evaluated in this chapter. Assessment is accomplished through simulations, using a benchmark model of a fuel cell system for an electric vehicle. The viability of SOSM techniques for oxygen stoichiometry control, with the prime objective of improving the overall energy efficiency, is established.
Taking into account several features, such as the controlled system performance, robustness and implementation simplicity, the SOSM controllers prove to be a highly efficient solution for this challenging problem. Among them, the
Super-Twisting
emerges as a very suitable algorithm for the fuel cell stack, given that it is specially intended for relative degree one systems and only requires real-time knowledge of the sliding variable.
Comparisons with standard LQR control are conducted. SOSM controllers demonstrate better robustness features in a wide range of operation. Additionally, no state observers are required, resulting in a simple and low computational cost control solution for this type of applications.