01.12.2012 | Abhandlung | Ausgabe 5/2012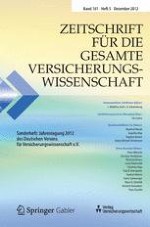 Asset management in the German insurance industry: the quality of interest rate forecasts
Autoren:

Christoph Schwarzbach, Frederik Kunze, Norman Rudschuck, Torsten Windels
Abstract
Chopra and Ziemba (J. Portf. Manag. 19: 6–11,
1993
) show that for asset only allocations the return forecasts are more important than assumptions about the variance-covariance matrix of the returns. Following Basse et al. (ZVersWiss 96: 617–648,
2007
) the same holds true for the asset liability management (ALM) of insurance companies. Given the high quotas of bonds in the real as well as optimized insurance portfolios, interest rate forecasts are of exceptional importance. Therefore this paper examines some of these estimates for the European market using techniques of time series analysis. A set of criteria for the evaluation of the forecasts is presented. While some results seem to be quite favorable for forecasters, others indicate that none of the analyzed forecasts seems to provide relevant information about the future development. There is lot of evidence showing that interest rates are very difficult to predict. Some hints clearly point towards herd behavior among forecasters.